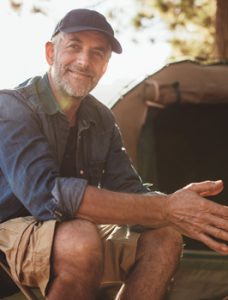 If you're missing teeth, you're probably eager to laugh, speak, and smile with confidence again. Dental implants create a foundation for beautiful and functional replacement teeth.
Dental implants are the latest and greatest tooth replacement method. They offer maximum security and comfort. Dental implants are the next-best-thing to natural teeth because with a dental crown, they perform the duties of both the tooth roots and above surface portion of the teeth.
Dental implants are small posts made of medical-grade titanium. Your dentist will surgically insert them into the jawbone. The posts will fuse with your jawbone over the course of a few months, and then begin to stimulate and strengthen the bone.
These replacement roots are restored with natural-looking restorations like dentures, dental crowns, or dental bridges. Although the dental implant process requires a few months, the discomfort is minimal and the payoff is enormous!
Eat Virtually Anything | Have you given up your favorite foods because of missing teeth? Many patients are forced to change their diets significantly because they are no longer able to chew properly. Dental implants will allow you to chew any food comfortably again.
Preserve your Appearance | Missing teeth lead to jawbone deterioration and a collapsed facial structure. Dental implants will lift and fortify your jawbone so that you can preserve your youthful look.
Secure your Smile | Dental implants are highly reliable because they are anchored into your jawbone. They will never shift or slide while you socialize, laugh, or eat!
The Dental Implant Process
Come see Dr. Keating for a consultation. He will take impressions and x-rays of your teeth to create a smile that's custom-made for you.
Your dental professional will surgically place the dental implants into the jawbone. You will be made comfortable during this procedure with local anesthesia and dental sedation.
The implants will heal and fuse with your jawbone. Your recovery time will require a few months, but you will experience very little discomfort.
Dr. Keating will restore your dental implants with attractive replacement teeth, and you can start enjoying your brand new smile!
You deserve to love your smile again. Give us a call today at Keating Family Dental to find out more about changing your life with dental implants!